3 Amazing Social Networking Tactics
Jul 19, 2019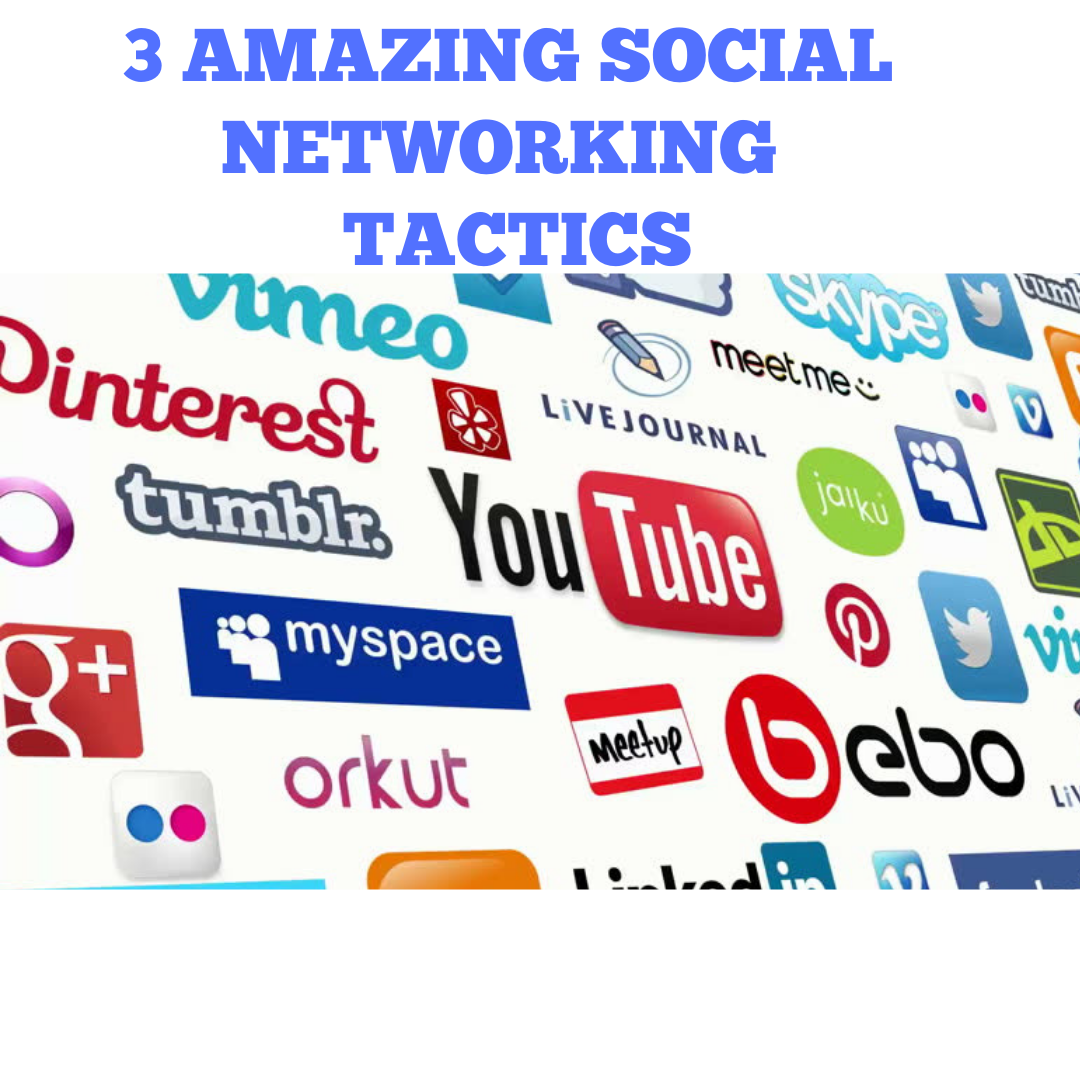 Social networking sites such as Facebook, Instagram, LinkedIn, Twitter, and Foursquare allow people and organizations to connect and interact with friends, colleagues, and fans.

These sites provide rich opportunities for you to keep your customers continually updated about your goods and services while engaging in active conversations with them.
Perhaps most importantly, social networking makes it possible for you to listen closely to what your customers want and need.
All of these services are free to access; however, it takes strategic planning by individuals within your organization or by outside consultants who are intimately familiar with
social networking to get the most value when you use them.
3 AMAZING TRENDING AND SUCCESSFUL TACTICS

Start a blog

One of the ways to attract potential clients is to provide them with engaging content by writing a blog.
A blog is written by a trusted expert who points to resources that will be of interest to readers in this case, prospective clients. A blog can also encourage customers to participate by allowing them to post comments, suggestions, or opinions on the blog site.
Blogs serve to establish your company as transparent, relevant, active, and expert in its field.
RSS (Really Simple Syndication) feeds are also commonly used by businesses to keep customers updated and to inform them of upcoming deals and promotions.

You can also use RSS to publish your blog entries, news stories, and videos.
Every year, the number of individuals who communicate via social networking grows exponentially, and businesses of every size should strongly consider taking advantage
of this dynamic platform to enhance their marketing programs.
The following are social media tactics that can take your business to another level as it competes in the digital age.
Clarify Your Brand

Branding is all about recognition. How will your customers know you are you, and not one of your competitors? Social media is a way for customers to know you, like you,
and trust you. In addition, the you they are getting to know, like, and trust is your brand. In other words, your brand is the story of you. Your brand is everything about you
that sets you apart from your competitors. Moreover, in social media, there are a few elements of branding identity that are not applicable in other kinds of marketing,
such as your tone, or voice. For example, do you communicate with humor? Are you straightforward and direct? Do you tend to be chatty? Without a differentiated brand identity you are a commodity, like milk, or gas. You get the sale if you happen to be the closest or cheapest when your customer is ready to buy. Nevertheless,
when you are perceived as a distinguished brand, your customers will travel for miles, or pay a premium price, just to buy from you.
That is how you generate repeat business and cultivate customers who promote your products for you.
Share Information

Do not be afraid to share. Corporations, like people, need to share information to get the value out of social media. Make your content easy to share.
Incorporate tools that promote sharing, such as Share This links, RSS feeds, and E-mail a friend links.
Video sharing sites let you upload videos and share them with people.
They are perfect repositories for video blogs, taped seminars, witty PowerPoint presentations, commercials, how-tos, and behind-the-scenes looks at your organization. Videos also help you gain exposure and direct traffic back to your Web site. Videos can be a warm and fuzzy way to spark interest.
They are inexpensive to produce and provide an engaging platform to demonstrate your expertise. They are also a great way to display your customer testimonials.
Try It Now
Get Started Free
---
Try StoreMantis free for 7 days. No credit card required!